Every year the iOS developer community looks toward Christmas with a mix of anticipation and trepidation. Since the App Store first launched, Christmas Day has always been the single largest sales day for developers. Getting your app in the store and prominently displayed during this 24 hour period is vital for closing out the year well financially.
The run-up can be rather stressful for devs trying to squeeze any last minute projects out the door. This year this angst even got written up in the NY Times.
This year was no different. I have pulled my sales for Christmas Day 2011 and the results again delight. Below are the sales for My Recipe Book covering the month period just prior to Christmas. The value plotted represents the percentage difference between sales that day and the average for the year. I also included the equivalent data from last year for comparison. On Christmas day My Recipe Book was ranked #4 in the Lifestyle iPad category and #184 in Overall iPad.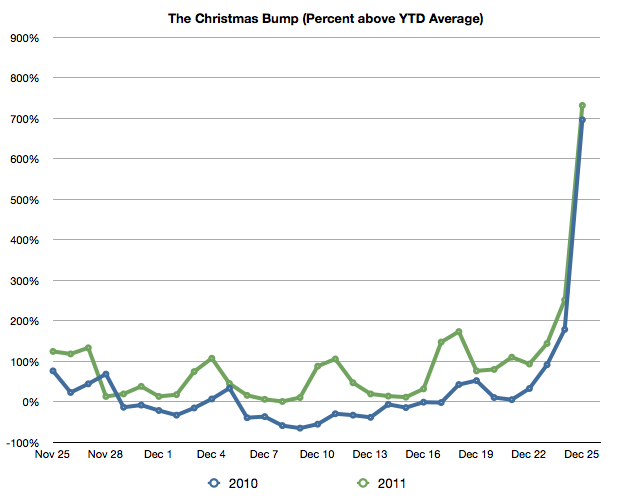 When I pulled together this chart I was surprised at how consistently the two years data stacks up. Even though sales in 2011 for this app have been around 50% higher than in 2010, the relative increase that Christmas Day showed was almost identical. This 7X jump in sales essentially compresses an entire week of sales into a single day.
As I write this there are 363 days until Christmas 2012, enough time for all the iOS developers out there to create, polish and publish their next creation. Good Luck.