I have now been in possession of an Apple Watch for about three days. Here are a few random observations I've made about using it:
Overall it slips rather seamlessly into your life. The improvement it provides is reasonably limited, but still felt. There is very little I've encountered so far where having a watch had a dramatic impact, but it is useful.

The wake on raise function (that turns on the watch when it thinks you are looking at it) has been a bit hit-or-miss for me. It has worked correctly maybe 75% of the time, pretty good but that 25% feels pretty annoying. I especially found it to be bad while driving—where it kept waking up as I turned the steering wheel. This was rather distracting especially at night where it kept drawing my eyes down.

Making a phone call from your wrist feels like the future. Not sure how practical it will be in reality but very cool either way.

I'm still bouncing back and forth between watch faces trying to find my favorite one. One thing that I did find kind of annoying is that you can't show the time in the middle of the Modular face. I really wish I could put the time in this big middle box. Right now I'm going back and forth between that face and the Utility analogue face.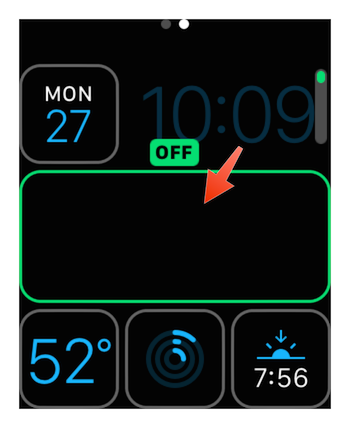 The fitness tracking stuff is really sweet. I love being able to get quick performance stat updates while out exercising by just looking at my wrist. Previously I'd used Runkeeper's audio cues for this, which does the job but keeps pausing my podcast every few minutes which is less than ideal. The heart rate sensor seems pretty consistent with my experience with other dedicated devices.

The activity tracking gets really confused by walking while pushing a stroller (something I do a lot). It counted roughly 40% less steps than my iPhone in my pocket for a long walk we did on Saturday. Certainly understandable since my wrist isn't moving much while holding onto the stroller but frustrating nevertheless. I wish it would have more intelligently combined the data from my iPhone with the Watch to get a more holistically accurate picture.

I kinda wish that Apple had setup a dummy account where you could send digital touches and heartbeats too (maybe to Siri?). I tried showing the feature to a few friends over the weekend but this requires the rather awkward decision about which of my Apple Watch equipped friends I was going to interrupt with my heartbeat.

Also, it is worth noting that the heartbeat you send with that communication feature isn't your real-time heartbeat. Based on what I can gather it looks to be based on the last measured value the Watch has. This is typically within a few minutes but still feels slightly less 'intimate'.

The latency of using apps is a bit more than I was hoping for. Overall you can get things done with it but given how short I'd like to keep interactions with the Watch waiting 3 seconds for something to load is not great.

I've turned off essentially all notifications to the Watch except for phone calls and text messages. Everything else just got annoying very quickly.
My general impression is that it is a very solid V1 product. There are still a lot of little rough edges but overall it achieves what it sets out to very well.