I'm delighted to announce version 3.2 of Pedometer++ today. It includes compatibility with all the newly announced Apple products and operating systems, but more importantly it includes a dramatic overhaul of its Apple Watch app.
The old Apple Watch app was extremely limited in what it could do. In many ways a holdover from when it was first imagined for the original Apple Watch. The capabilities and performance of modern Apple Watches have moved forward profoundly since then. This update is all about taking advantage of everything that is now possible on the Apple Watch and turning Pedometer++'s watch app into a first class experience for all pedestrian workout types.
The new Apple Watch features require watchOS 5. Devices running watchOS 4 will retain their current featureset.
Watch App Overview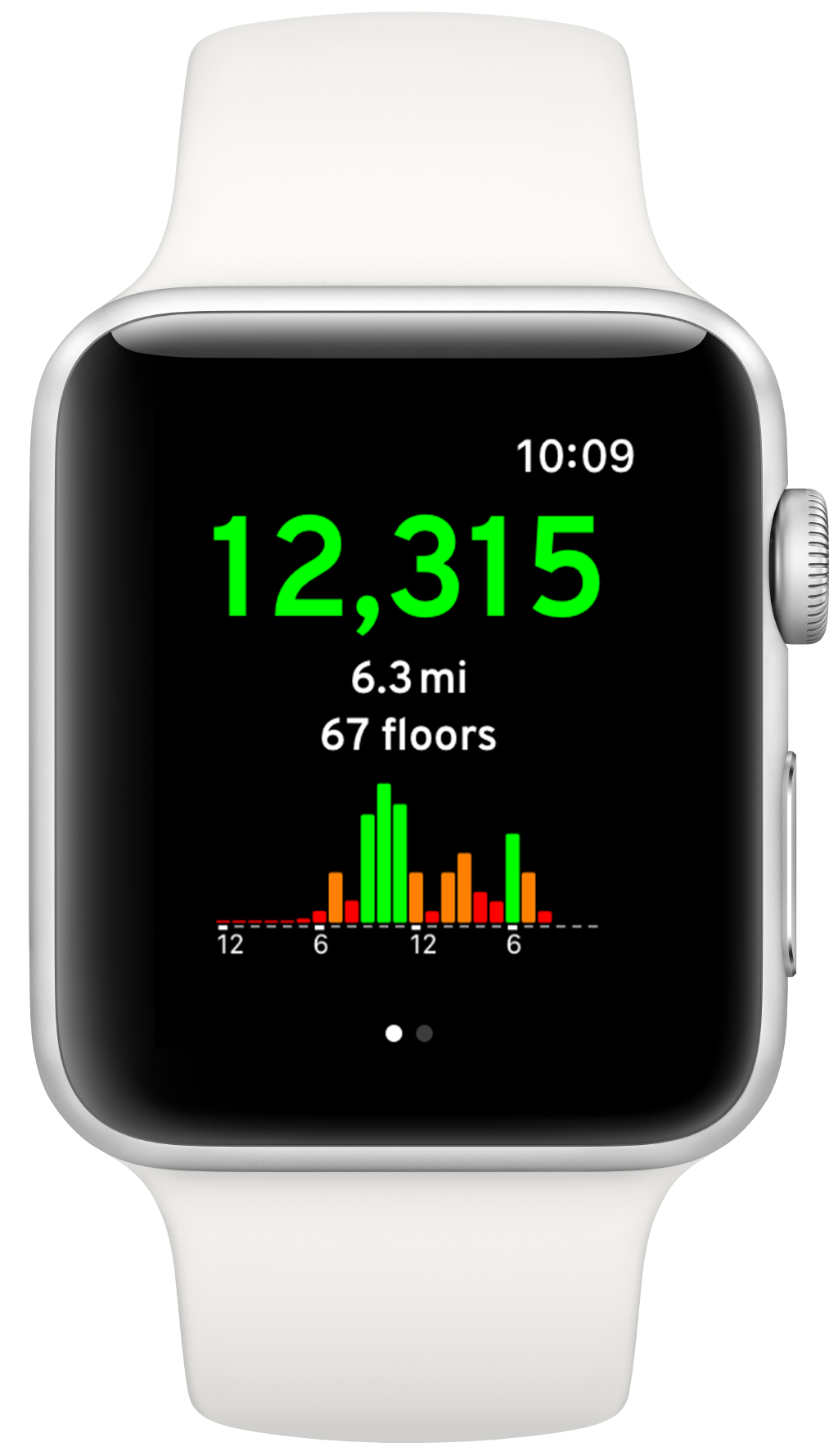 The new app starts off the same way as before with a detailed view of your current day's steps. The bar graph shows your steps each hour. On devices that support it you'll also see your current day's floors climbed total.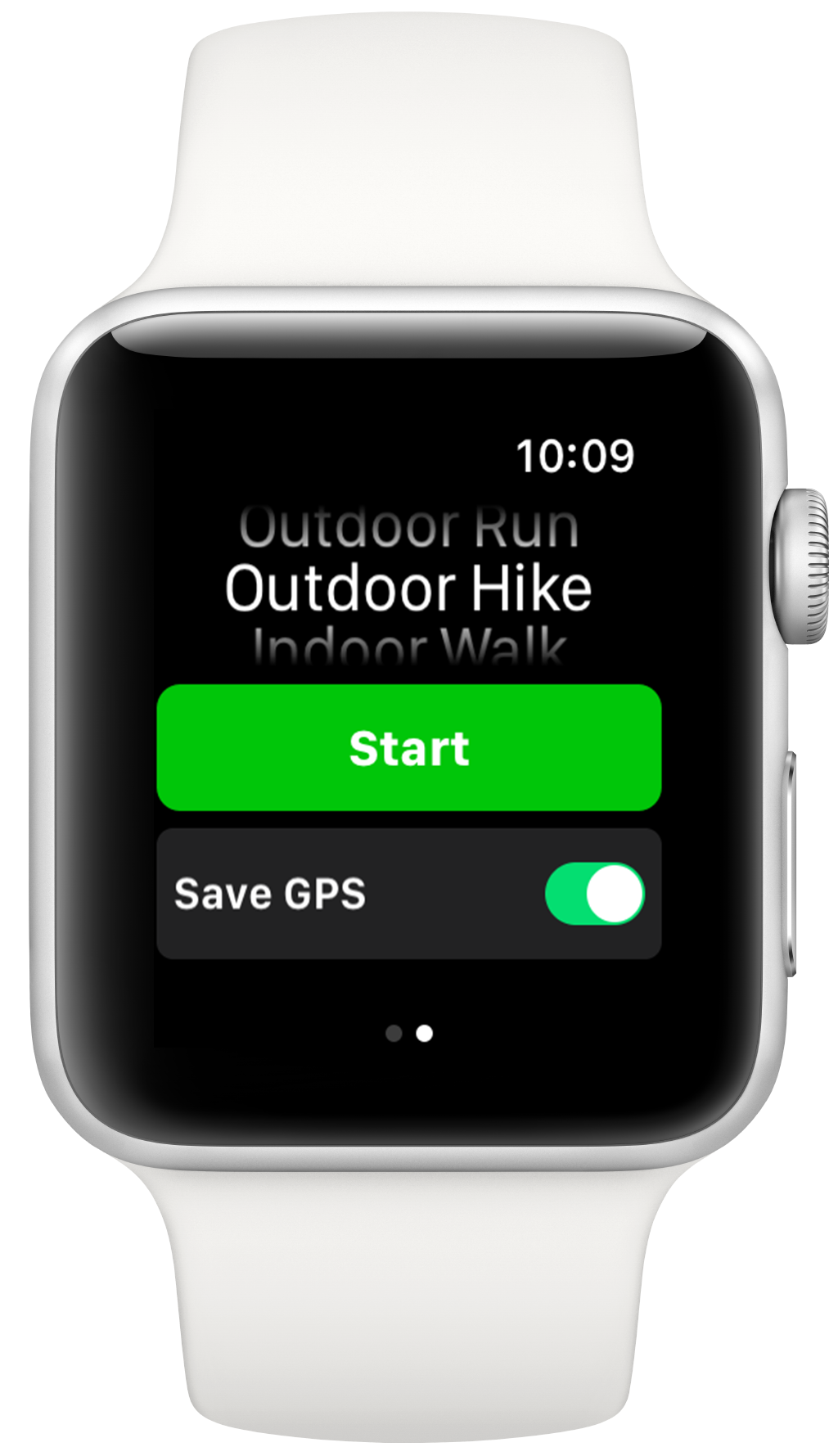 If you swipe right you'll be able to start a workout within the app. These include Walking, Running, Hiking and Other workout types. For outdoor types you can now optionally have Pedometer++ record the GPS track of the workout. This GPS data is then saved along with the workout into the Health app from which it can be read by apps like Activity or Workouts++.
The Hiking workout mode has been dramatically enhanced in watchOS 5 to provide more accurate tracking of hiking activities. It is best to choose this mode for situations when you will encounter significant elevation changes on your walk.
During your Workout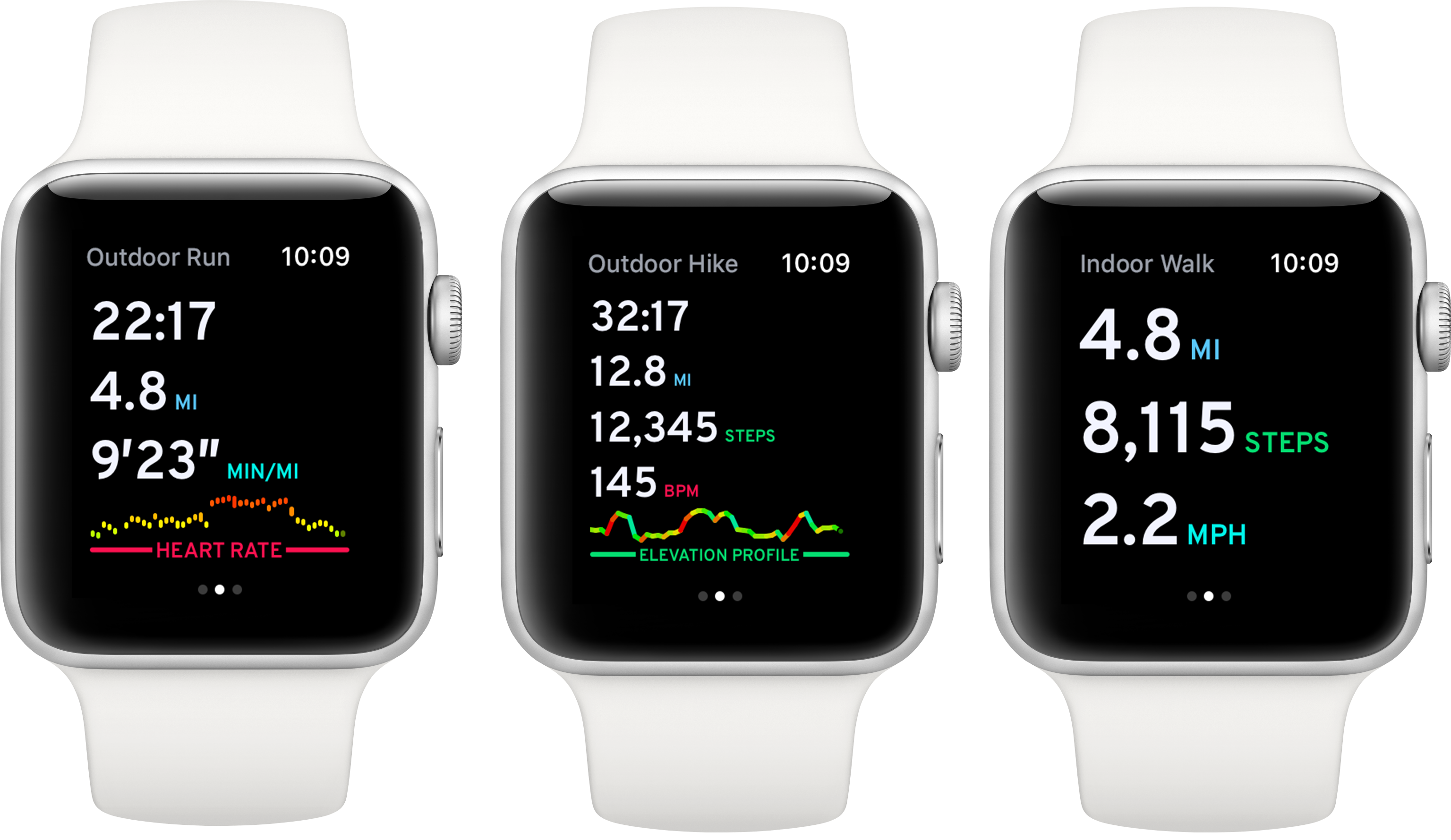 Once you start a workout you'll be presented with a beautiful and completely customizable workout display. The new workout display screen can be tailored to show exactly what you find useful during your workout. The available metrics are:
Duration
Distance
Steps (Either your daily total or just this workout)
Heart Rate, Heart Rate Graph
Average Speed or Pace
Current elevation, Elevation Profile Graph (requires GPS to be enabled)
Calories
Additionally, you can also add graphical displays to your workout display. The Heart Rate Graph shows how your exertion levels change throughout the workout. The Elevation Profile graph shows you the terrain you've tackled during your activity with color coded segments indicating the difficulty of the elevation change.
You can configure which of these metrics are visible by swiping to the left from the workout display screen and tapping on the Settings (gear) icon. Then tap on the metric you want to enable/disable. Note that not all metrics are available for all activity types (for example, speed/pace/distance aren't available for Other workout types).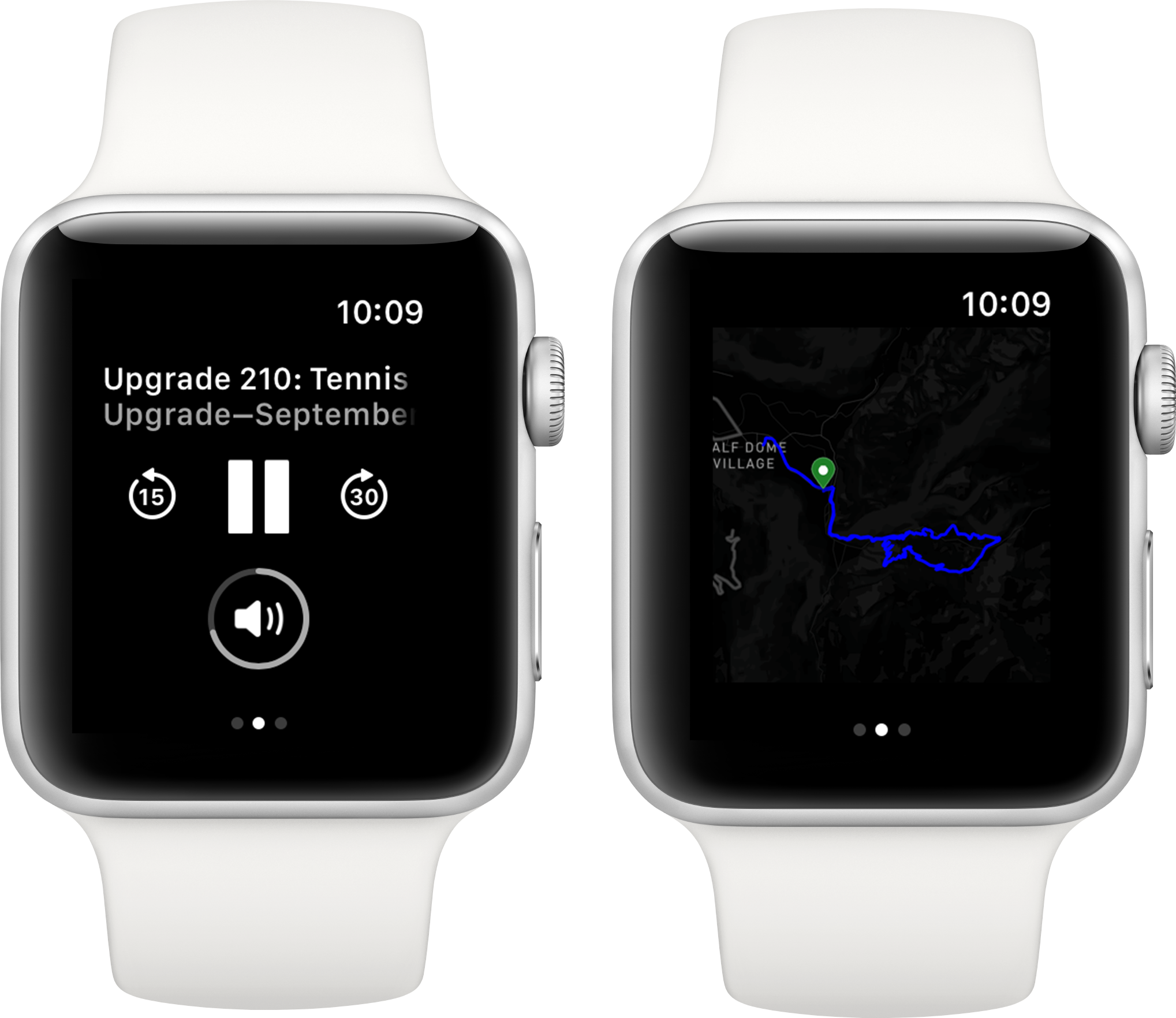 Swiping to the right lets you access two new informational displays.
The first is a media control that lets you control the audio playing from your iPhone or Apple Watch without leaving Pedometer++. This includes a volume control and playback (play/pause/skip/rewind) controls.
The second shows you a map of your current workout track. This requires that GPS tracking is enabled for the workout. Your current location is indicated by the green marker. The map requires an active network connection to display.
New Complications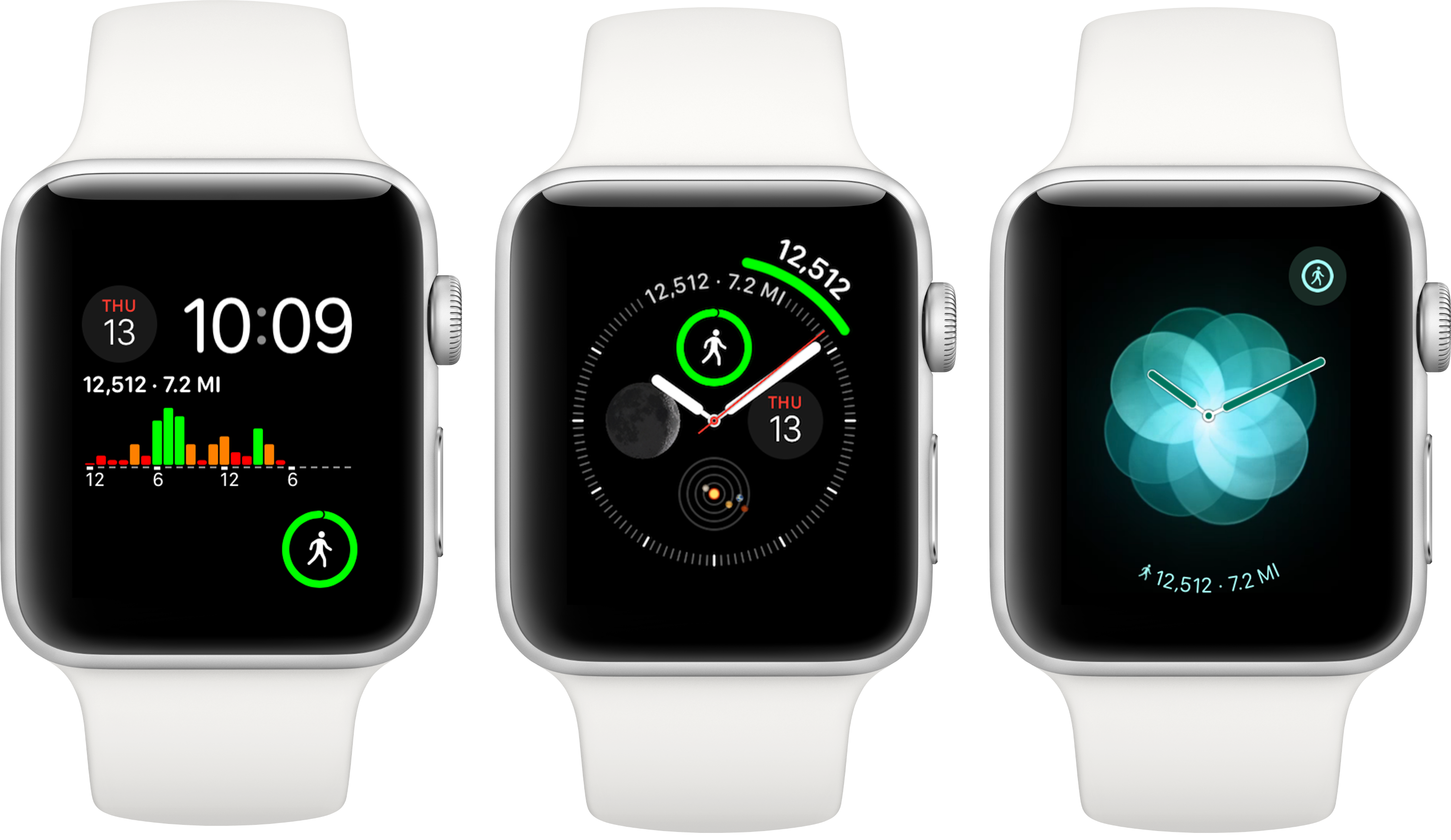 The Apple Watch Series 4 includes two brand new watch face types designed to take full advantage of its larger display. These are the Infograph and Infograph Modular. These faces let you pack a tremendous amount of data onto your Apple Watch's main display.
Pedometer++ has been updated to support all the possible complication types. I especially like the look of putting Pedometer++ as the top middle complication on the analog watch face. Your goal progress will be indicated by the colored circle filling in through the day with your current step count shown along the watch bezel. In the Modular face you can now even have your detailed daily step graph shown in the middle of the face at all times.
Conclusion
This update is just the very start of a significant series of improvements I have planned for Pedometer++ this fall. My goal is to make Pedometer++ the absolute best app for tracking pedestrian activity on your iPhone and Apple Watch, period. This update moves me much, much closer to that goal on the Apple Watch. I hope you will join me for this journey. I am really looking forward to seeing just how great I can make the app.
Pedometer++ is free in the App Store.